Talisman manufactures a wide range of sizes of Tube End Plugs for cardboard postal tubes.
We offer plugs from 1 inch up to 12 inches, and stock significant quantities of each size ready for shipping. Our tube end plugs are made from 100% recyclable low-density polyethylene, so there's no need to be concerned about any environmental impact.
As standard Talisman offer white plugs, but we're more than happy to offer custom colours to fit your corporate brand or project needs.
If you have any specific requirements for a project then please get in touch. Talisman are experienced plastic injection moulders adept at new product development, with an on-site tool room, and the capabilities to help fulfill your demands.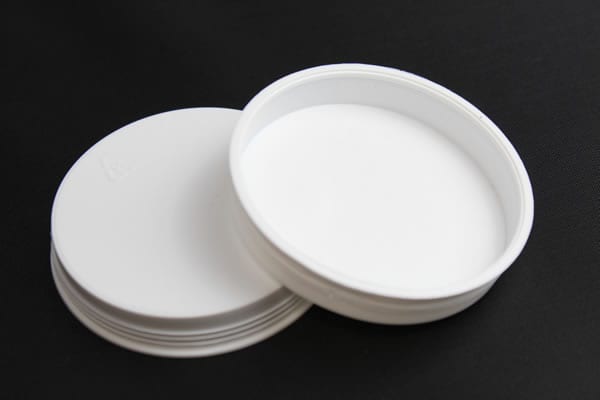 Applications:
Re-sealable plastic plug suitable for cardboard and composite containers.
Material:
100% Recyclable Low-Density Polyethylene. Recycling code for PE: 4
Packaging:
Heat sealed in heavy duty polythene bags
Standard Colours:
White & Black – Other colours are available on request
Shipping Specification:
Pallets are stretch wrapped and banded.
Samples available on request.
Product Code
Width (A)
Depth (B)
Part Weight (g)
Bag Quantity
Imperial
Metric
CP600
1″
25.4mm
9mm
1.5
2000
CP6001
1.25″
31.8mm
9mm
1.9
2000
CP6002
1.5″
38.1mm
9mm
2.7
2000
CP6003
1.75″
44.5mm
9mm
3.2
2000
CP6004
2″
50.8mm
9mm
3.7
2000
CP6005
2.25″
57.1mm
9mm
4.9
1000
CP6006
2.5″
63.5mm
9mm
6.4
1000
CP6008
2.75″
70.0mm
9mm
5.2
1000
CP6009
3″
76.2mm
12mm
7.7
500
CP6010
3.25″
82.5mm
12mm
10
500
CP6011
3.5″
89.0mm
12mm
12.6
500
CP6012
3.75″
95.0mm
12mm
14.4
500
CP6013
4″
101.6mm
12mm
14.4
400
CP6014
4.5″
114.3mm
15mm
17
250
CP6015
4.75″
120.7mm
15mm
21
250
CP6017
5″
120.7mm
15mm
39
200
CP6019
5.5″
137.7mm
15mm
39
150
CP6021
6″
152.4mm
15mm
33.8
150
CP6023
6.5″
165.1mm
15mm
43
125
CP6025
7″ *
177.8mm
15mm
49
200*
CP6029
8″ *
203.2mm
15mm
78
125*
CP6030
10″ *
254.0mm
19mm
105
75*
CP6040
12″ *
302.0mm
18mm
176
50*